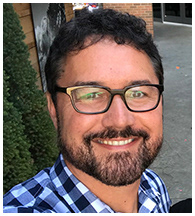 A LITTTLE BIT ABOUT MYSEL

F
Freelance Graphic Designer with over 20 years of experience in the creative and design playground; currently working as a Creative Services Manager for a Chicago-based direct marketing company. I bring life to creative design, content, and solutions across multiple channels. My work spans everything from concept creation to digital design to campaign execution.
Design has always been a passion of mine for as far back as I can remember. As a child, I would get more excited for the packaging that my toys came in rather than the toys themselves. When my mom would drag my sister and I to the mall, I would keep myself entertained by looking at all of the different store logos and signage to help pass the time. It was my playground of design. I would even go as far as creating graphic design t-shirts for my neighborhood friends using permanent markers on white t-shirts. I have grown up with the passion to design and create and it has continued to be a part of who I am into my adult years.
In addition to design, my other passions in life include traveling to new places, the emerging craft design trend, the Chicago Cubs, and being a father of two amazing young gentlemen. Furthermore, I love health and fitness and I have successfully completed 6 full marathons, 1 sprint triathlon, and 3 Tough Mudders.